What is Responsive Website Design?
A responsive website design can adjust itself to the display size of your website viewer's smartphone or tablet. Try it out! Resize your browser window to a narrow view to see how it works with this page (note: you should refresh the page after resizing to let your browser know that you have changed). Or, visit this site on your smartphone or tablet at http://ncctg.com
"Day by day, the number of devices, platforms, and browsers that need to work with your site grows. Responsive web design represents a fundamental shift in how we'll build websites for the decade to come."
- Jeffrey Veen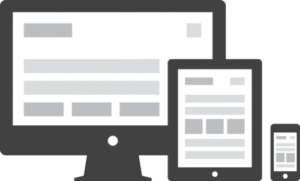 To meet this new demand we will create a new website design that is simple, clean and fits the needs of today's responsive  world in the delivery of your website content.
Your site will be optimized using a mobile first design philosophy. The content and images on your site will focus on delivering your message effectively no matter what mobile device a user may have.
Contact us now for a FREE consultation - Contact Us Now
Responsive Design Features
Our responsive mobile friendly website designs will provide many of the following features:
fluid design layout
responsive navigation (menus)
responsive images
fluid image galleries
responsive form layouts